Quality.  It must be tracked, measured, managed…and continuously improved.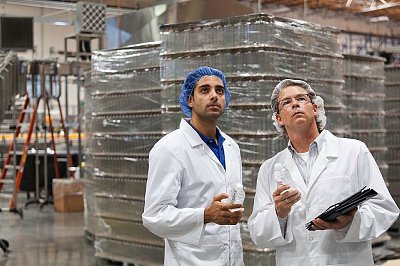 Quality is not like the weather: you can talk about it and you can do something about it. So how can you and your manufacturing personnel:
Ensure products are built to expected standards?
Manage rapidly changing production and process data?
Track and measure out-of-tolerance and scrap automatically?
As with many automation solutions, improving quality starts with data from:
Process variables
On-line quality measurements
Off-line quality measurements
Quality lab database archives
Customer complaint database archives
The data must be analyzed, decisions made and processes improved. The result, increased quality of your finished goods.
Advantage Industrial Automation has the quality improvement solutions for:
Operators
Know what is causing & how to stop downtime & waste right now
Monitor any and all process variables, and operator input data more concisely
See quality exceptions in real-time and signal alarms
Integrate process recipes & quality specifications seamlessly
Prompt for process adjustments or control automatically
Production and Engineering
Provide quality measurements during production – not after
Interface disparate IT systems to analyze data
Understand the relationship between raw materials & quality
Understand downtime, waste, quality, production and efficiency trends
Management
Understand the capability of different assets to achieve quality
Understand the cost of quality
Give real-time pinpointed information without all the report clutter
Connect and motivate the entire enterprise to improve quality
If you're in AL, FL, GA, KY, NC, SC or TN and are interested in learning more about what benefits Advantage Industrial Automation can provide you, contact us here.